The U.S. stock market is on hold: Dow Jones grows by 0.01%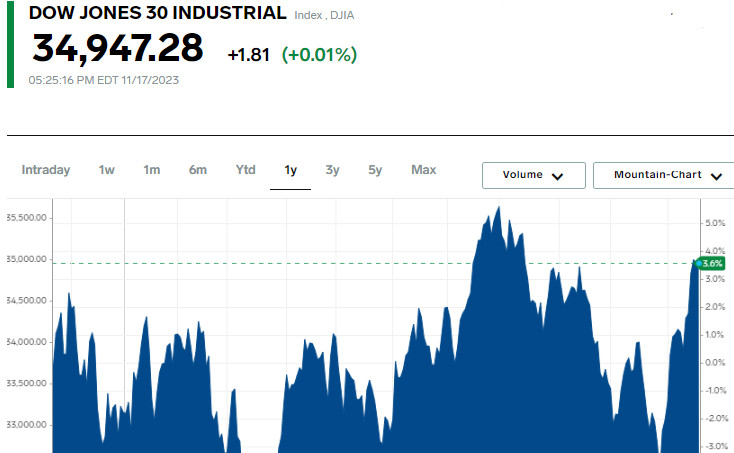 There is a slight increase in the main indices on the American stock market: the Dow Jones increased by 0.01%, S&P by 0.13%, and Nasdaq by 0.08%. This occurred against the backdrop of investors digesting the latest news and comments from representatives of the U.S. Federal Reserve System. Michael Barr, Vice Chairman of the Federal Reserve, expressed the view that the Fed is approaching the peak of interest rate hikes, while other representatives emphasized the need for additional data on reducing inflation.
Meanwhile, Applied Materials (AMAT.O) shares lost 4% after a third-quarter report and news of a U.S. Department of Justice investigation into allegations of violating export restrictions to China. On the other hand, Gap's shares rose after publishing improved third-quarter results.
The market was further supported by a decrease in the yield of 10-year U.S. Treasury bonds, reaching a two-month low. The S&P 500, Nasdaq, and Dow indices marked the third consecutive week of growth, which became the longest weekly winning streak for S&P and Dow since July, and for Nasdaq since June.
Among the components of the Dow Jones index, the leaders of growth were shares of Walgreens Boots Alliance Inc, American Express Company, and Caterpillar Inc, which showed a significant increase in price.
Robert Fipps, director of Per Stirling in Austin, Texas, noted that a key factor in today's stock growth was the achievement of a two-month low in U.S. Treasury bond yields. He emphasized that despite the modest indicators of the main indices, there was noticeable activity in more cyclical sectors of the economy.
Fipps pointed to the weakness of technology stocks that day, however, he emphasized that the S&P 500 index hides stronger indicators in other sectors, including energy, industry, and finance.
The Dow Jones industrial index grew slightly, adding 1.81 points or 0.01%, and closing at 34,947.28. The S&P 500 increased by 5.78 points or 0.13%, reaching 4,514.02, while the Nasdaq Composite index grew by 11.81 points or 0.08%, closing at 14,125.48.
For the week, the S&P 500 index grew by 2.2%, Nasdaq increased by 2.4%, and Dow Jones rose by 1.9%.
Among the leaders of growth on the S&P 500 that day were shares of Ross Stores Inc, which rose by 7.22% to 128.82, Expedia Inc, which increased by 5.05% to 136.38, and shares of Albemarle Corp, which went up by 3.91%, closing at 127.39.
Jack McIntyre, a portfolio manager at Brandywine Global in Philadelphia, expressed the need to analyze recent market events and identify the next growth catalyst.
The energy sector, which grew by 2.1%, was the leader among the 11 key sectors of the S&P 500 index, thanks to an increase in oil prices by more than 4%. At the same time, the communication services index lost the most, especially due to a drop in Alphabet (GOOGL.O) shares by more than 1%. The technology sector was also among the weakest, with Microsoft (MSFT.O) shares losing 1.7% in value.
OpenAI, the producer of ChatGPT, supported by Microsoft, announced the departure of its CEO amidst statements from the board of directors about the insufficiency of his disclosures.
Shares of Amazon.com (AMZN.O) grew by 1.6%, after the company announced job cuts in the Alexa voice assistant division as part of a shift in business priorities and an increased focus on generative artificial intelligence.
The Russell 2000 index, which includes small-cap companies, rose by 1.4%, outperforming broader markets. This index, whose members benefit more from a reduction in credit rates than large companies, also showed the best results for the week, adding 5.4%.
Retail stocks were in demand: Ross Stores (ROST.O) shares increased by 7.2% after the company raised its annual profit forecast due to exceeding sales and profit expectations in the third quarter. Gap (GPS.N) shares also significantly rose by 30.6% thanks to the publication of better-than-expected quarterly results, driven by improved sales at Old Navy and reduced logistics expenses.
Shares of ChargePoint Holdings (CHPT.N) significantly fell by 35.5% after the company, specializing in electric vehicle charging networks, lowered its revenue forecast for the third quarter. In addition, ChargePoint announced the appointment of Rick Wilmer as CEO.
On American stock exchanges, a turnover of 10.05 billion shares was recorded, which is less than the average turnover of 11.04 billion shares over the last 20 sessions.
On the New York Stock Exchange, the number of rising issues exceeded the number of falling ones in a ratio of 2.65 to 1, while on Nasdaq this ratio was 2.16 to 1 in favor of rising companies. These data indicate the predominance of positive trends in the market, despite individual significant declines, such as that of ChargePoint Holdings.
The S&P 500 index recorded 18 new 52-week highs and one new low, while the Nasdaq Composite index registered 55 new highs and 97 new lows.
The CBOE Volatility Index, based on S&P 500 options, decreased by 3.63%, reaching a new monthly low of 13.80.
In the commodities market, gold futures for December delivery lost 0.22%, falling to $1,000 per troy ounce. Prices for WTI crude oil futures for December delivery rose by 3.91%, to $75.75 per barrel, and Brent crude oil futures for January delivery increased by 3.95%, reaching $80.48 per barrel.
In the foreign exchange market, the EUR/USD pair rose by 0.54% to 1.09, while the USD/JPY pair fell by 0.69%, to 149.68.
The U.S. Dollar Index futures decreased by 0.49%, reaching 103.73. These market movements reflect changes in economic outlooks and investors' reactions to current economic data and political events.
News are provided by


Insta

Forex.
Read More