Japan Export Growth Steady in October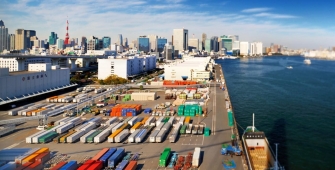 Japan's export growth was steady in October, which indicates that global demand for Japanese cars and electronics will likely extend the economic recovery into the current quarter.
According to data from the Ministry of Finance, exports increased 14.0 percent year-on-year in October, driven by shipments of automobiles to Australia and liquid-crystal device production equipment and raw materials for plastics to China. It follows a 14.1 percent rise in September.
The recent figures follows data which showed that Japan's economy grew at an annualized rate of 1.4 percent in the third quarter, propelled by strong external demand.
In volume terms, exports increased 3.8 percent in October from the previous year, following a 4.8 percent annual rise in September.
The value of exports to the United States was up 7.1 percent in the year to October led by motors and construction and mining machinery, following an 11.1 percent rise in September.
Japan's trade surplus with the United States increased by an annual 11.3 percent in October to 644.7 billion yen ($5.75 billion), a source of concern given President Donald Trump's demand for bilateral trade talks to fix trade imbalances under his "America First" policy.
The data recorded the fourth consecutive month of annual expansion in Japan's trade surplus with the United States.
Prime News are provided by

Insta

Forex.