New Zealand Reports Stable Q1 Economic Growth Despite Slowdown in Building Activity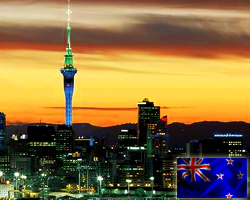 The New Zealand economic growth accelerated slightly on a sequential basis in the first quarter of this year. GDP grew 0.5 percent after rising 0.4 percent in the fourth quarter of 2016, showed Statistics New Zealand.
"Much lower building activity combined with mixed results for the service sector took the shine off higher dairy production and saw a second quarter of moderate overall GDP growth. At an industry level, 11 out of 16 industries increased this quarter, with agriculture and retail trade having the biggest increases, while construction was significantly down," said national accounts senior manager Gary Dunnet.
Construction dropped 2.1 percent, with all building sectors indicating a decline. Non-residential building construction, declining from a recent peak, was the important driver. This was also reflected with declining investment in both residential and non-residential building construction.
Service industries activity came in mixed, rising 0.4 percent in the first quarter. Retail trade and accommodation mainly drove the service growth. On the contrary, postal, transport and warehousing and rental hiring and real-estate services dropped.
Household spending rebounded in the first quarter, growing 1.3 percent. This shows solid growth in retail trade. This rise added to the year-on-year growth rate of 4.7 percent, the largest rise in household spending in more than a decade. Meanwhile, net exports dropped in the March quarter. Exports of goods and services dropped 0.4 percent, while imports of goods and services were up 1.3 percent.
On a year-on-year basis, the GDP growth of New Zealand came in at 3 percent.
News are provided by

Insta

Forex.