Wall Street Gains as US-China Trade War Fears Ease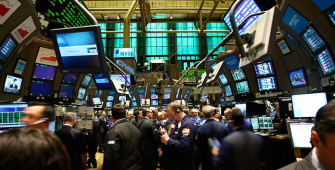 Stocks ended higher on Monday as trade tensions between the U.S. and China eased for the moment, while investor sentiment was also lifted by news of dealmaking activity.
The Dow Jones industrial average soared 298.20 points to 25,013.29. Boeing, Caterpillar and United Technologies, big exporters likely to benefit from easing trade tensions, were the best-performing stocks in the index. Monday also marked the first time since mid-March that the Dow closed above 25,000.
The S&P 500 rose 0.7 percent to 2,733.01 as industrials were up 1.5 percent. The Nasdaq composite gained 0.5 percent as 7,394.04 as semiconductors pushed tech higher.
U.S. Treasury Secretary Steven Mnuchin said on Sunday the United States and China had agreed to drop their tariff threats on billions of dollars worth of each country's goods, while China on Monday praised a significant dialing back of tensions.
Nine of the 11 major S&P sectors were higher, led by the technology sector's 1.21 percent gain. Apple, which counts China as major growth market, rose 1.4 percent, giving the biggest boost to the S&P 500 and the Nasdaq.
The industrial sector gained 1.20 percent, led by a 2.4 percent jump in Boeing, which sells about a fourth of its commercial aircraft to Chinese customers. Caterpillar gained 2.3 percent.
Wall Street also got a boost on Monday amid a slew of dealmaking news.
General Electric will merge its transportation business with Wabtec — a rail equipment maker — in a deal worth $11.1 billion. GE shares rose 2 percent.
Meanwhile, Fifth Third Bancorp agreed to buy MB Financial for $4.7 billion in cash and stock. MB Financial shares soared 12.9 percent.
Prime News are provided by

Insta

Forex.