Oil Prices Rally on Disruption Threats in Nigeria, declining U.S. Inventories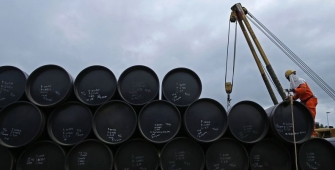 Oil prices edged up on a reported decline in U.S. crude stockpiles and as militant groups in Nigeria threatened to launch an assault on the nation's petroleum infrastructure.
But prices continued to be below the three-year highs as fuel stockpiles continue to be ample and as refineries reduce operations.
Brent crude futures stood at $69.56 per barrel, 18 cents or 0.3 percent higher from their last settlement. On Monday, the international benchmark hit their highest level since December-2015 high of $70.37 per barrel.
U.S. WTI crude futures traded at $64.25 per barrel, 28 cents or 0.4 percent higher from their last close. WTI hit their highest level since December, 2014 at $64.89 per barrel.
According to traders, prices have been lifted by reports that Nigeria's rebel group Niger Delta Avengers threaten to attack the nation's oil sector in the next few days.
Markets also received support from a decline in crude inventories. U.s. crude inventories declined by 5.1 million barrels in the latest week to 411.5 million, according to API.
Despite the overall upbeat sentiment in the markets, analysts warned that the recent rally, which has raised crude by around 14 percent since early December, may be on the verge of a correction.
Prime News are provided by

Insta

Forex.