European Economics Preview: Bank Of England Likely To Hike Interest Rate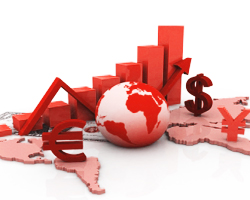 The Bank of England is widely expected to lift its key rate for the first time in a decade despite Brexit uncertainties, as inflation continues its upward trend on a weaker pound.
The BoE is forecast to raise the rate by 25 basis point to 0.50 percent. The monetary policy committee is expected to maintain the asset purchase programme at GBP 435 billion.
The policy announcement is due at 8.00 am ET on November 2, dubbed "Super Thursday". The bank is also slated to release its latest Inflation Report along with the MPC decision.
At 2.45 am ET, the Swiss State Secretariat for Economic Affairs releases consumer confidence for October. The sentiment index is forecast to rise to zero from -3 in previous quarter.
At 4.00 am ET, final trade balance from Hungary and Purchasing Managers' survey from Poland are due.
At 4.15 am ET, Switzerland's retail sales data is due. Economists forecast sales to grow 0.3 percent on year in September, reversing a 0.2 percent fall in August.
In the meantime, Spain's manufacturing PMI is due. The index is seen at 54.8 in October versus 54.3 in September.
At 4.45 am ET, IHS Markit releases Italy's manufacturing PMI. Economists forecast the index to rise slightly to 56.5 in October from 56.3 in September.
Thereafter, final manufacturing PMI figures are due from France, at 4.50 am ET.
At 4.55 am ET, final factory PMI and unemployment reports are due from Germany. The number of unemployed is forecast to fall 10,000 in October, following a decrease of 22,000 in September.
At 5.00 am ET, the Eurozone final manufacturing PMI is due. The index is expected to match the flash reading of 58.6 in October.
At 5.30 am ET, IHS Markit publishes UK construction PMI for October. Economists forecast the indicator to rise to 48.5 from 48.1 in September.