Legendary football club Borussia is now with us!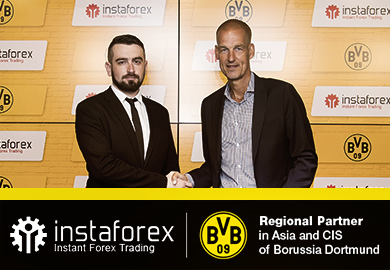 The international broker InstaForex is happy to announce new partnership with Borussia Dortmund. Borussia is a runner-up of Bundesliga 2018-2019 and one of the most renowned World Football clubs. Borussia Dortmund won 8 German Championships, Champions League, Cup Winners' Cup and Intercontinental Cup, 4 German Cups and six German Supercups.
Commenting on the new partnership, Ildar Sharipov, the president and founder of InstaForex said: "At the moment InstaForex is not only a broker but rather an IT company, investing heavily to technology and striving to offer the customers new innovative products on a regular basis. It's well known that IT plays a very significant role in football too, so we're looking not only for a leading team but also for technology enthusiasts in football which are a perfect match to our business philosophy. For these reasons it was a natural choice to align with such a team as Borussia Dortmund. We look forward to working with the club to further develop our respective brands in the markets of Asia and CIS.
Further welcoming of the new partnership is BVB Head of Asia, Suresh Letchmanan who comments: "We are very pleased to have secured Instaforex as a partner of Borussia Dortmund. The partnership with the leading online Forex trading company is a win for all sides - especially the fans in the markets of Asia and CIS who can look forward to many exciting activities with the BVB."
More details of the partnership are available on the webpage:
https://www.instaforex.com/borussia