Wall Street Gains as Dow Hits 5th Consecutive Record Finish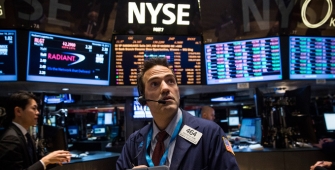 U.S. stocks finished higher on Monday as investors looked ahead to a key Federal Reserve meeting. Equities extended a record-breaking run with gains being propelled by resurgent energy firms benefiting from an increase in oil prices.
The Dow Jones industrial average advanced 0.28 percent to 22,331.35 and marked its fifth consecutive record finish. Boeing and Caterpillar contributed the most to gains.
The S&P 500 also ended at an all-time peak of 2,503.87, climbing 0.1 percent, with financials leading gainers. The Nasdaq composite notched an intraday record before finishing 0.1 percent higher at 6,454.64. Nvidia's almost five percent gain pushed the S&P and the Nasdaq higher.
Seven of the 11 major S&P sectors were higher, driven by a 0.95 percent advance in the financial index.
The CBOE Volatility Index (VIX), widely considered the best gauge of fear in the market, reached 9.88, its lowest level since Aug. 8. It traded 0.5 percent lower at 10.12.
Energy stocks have also been key to recent earnings growth, although the upbeat figures are coming off low comparisons after 2016's turmoil in the market, according to analysts.
Oil and gas firms ConocoPhillips and Hess, alongside refining company Valero Energy, were among the best performing energy stocks by end of trading.
Shares of major lenders, Bank of America, Goldman Sachs and JPMorgan, climbed over one percent, supported by increasing bond yields.
Orbital ATK notched a record peak after Northrop Grumman announced it will purchase the missile and rocket maker for almost $7.8 billion in cash. Shares of Northrop gained two percent.
Prime News are provided by

Insta

Forex.