U.S. Stocks Declined over North Korea Tensions, Tech Selloff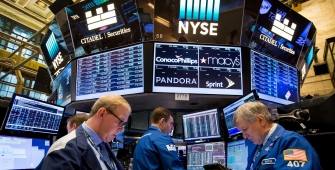 Wall Street dropped on Monday, as a selloff in technology shares weighed on the Nasdaq, while North Korea's recent warnings to Washington contributed to a cautious tone.
The CBOE Volatility index, a broadly followed measure of market anxiety, notched a 2-week peak of 11.21 and last stood 1.12 points higher at 10.71.
The Dow Jones industrial average fell 0.24 percent at 22,296.09. McDonald's, Visa and Boeing were the worst performers on the index, followed by Apple. Home Depot, Exxon Mobil and Walt Disney outperformed.
Information technology had its worst day since August 17, declining 1.4 percent as the largest loser in the S&P 500, which fell 0.22 percent to 2,496.66. Energy led six sectors up and finished almost 1.5 percent.
The Nasdaq composite briefly dropped over one percent but finished 0.99 percent lower at 6,370.59 in its worst day since September 5.
Tech names like Facebook, was down 4.81 percent, Microsoft, dropped 1.89 percent, while Apple, lost 1.11 percent. Other tech-related stocks also fell. Amazon.com declined 1.6 percent and Netflix tumbled 4.7 percent.
Shares of Apple dropped for the fourth consecutive day. The stock declined five percent the previous week, its worst week in over a year, following the launch of the iPhone 8 and some other products in stores. The stock remains almost 30 percent higher for 2017.
Social media giant Facebook fell 4.5 percent in their worst day of the year. It dropped a proposal to issue a new class of shares that will allow CEO Mark Zuckerberg to maintain voting control and fund the firm's philanthropic efforts.
The declines in tech were counterbalanced partly by a sharp rise in the energy sector, which climbed 1.5 percent. The sector was poised for its sixteenth advance in the previous 18 sessions.
Prime News are provided by

Insta

Forex.