Miss Insta Asia 2012 Results
The third round of
Miss Insta Asia
, the unique beauty contest, came to its close on October 1. During a year people were visiting the official Miss Insta Asia website to vote for gorgeous contest participants and leaving comments on the pages with their videos, photos and profiles.
On the basis of the rating results, six winners were determined. The title of Miss InstaAsia 2012 went to
Yekaterina Nagornaya
! We sincerely congratulate the beauty queen and five other finalists on the glorious victory! And, ladies, keep on inspiring traders with your gracious elegance.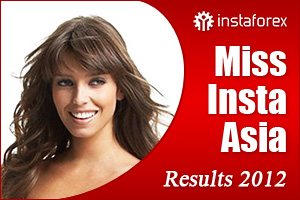 The gorgeous Miss Insta Asia 2012 winners shared the contest prize pool of $40,000:
Miss Insta Asia: Yekaterina Nagornaya; Chernigov, Ukraine - $20,000;
Forex Lady: Marina Zhabina; Khabarovsk, Russia - $8,000;
Miss Posh: Yana Shiyka; Kharkov, Ukraine - $3,000;
Miss Creativity: Natalya Gorelova; Sevastopol, Ukraine - $3,000;
Miss Smile: Francesca Ferretti; Sha Tin, Hong Kong - $3,000 ;
Miss Spice: Tatyana Malakhova; Vladimir-Volynskiy, Ukraine - $3,000.
The awards ceremony where the winners will be handed in account bonus certificates will be held at the annual ShowFx World financial exposition in Kiev on November 17-18, 2012.
The third round of the beauty contest gained popularity among Internet users from all over the world. Over 700 beauties from more than 50 countries of the world partook in the beauty contest. Several thousands of photos and videos were uploaded to the beauty contest website, and about 5,000 people voted for the girls.
Learn more about Miss Insta Asia 2012 results and finalists on the
official beauty contest website
.
Miss Insta Asia 2013 has already started! Be sure to take part in it!