Berita
InstaForex mengumumkan kemitraan dengan runner-up Barclyas Premier League
InstaForex, dan klub sepakbola legendaris Liverpool mengumumkan kemitraan selama dua tahun di hari ini dan akan berakhir di musim 2015/16.
InstaForex akan menjadi Official Online Forex dan Binary Options Trading Partner di Asia dan Commonwealth of Independent States (CIS) of Liverpool FC. Dengan aliansi baru ini, InstaForex menawarkan pengalaman-pengalaman seru bersama LFC untuk para klien yang merupakan penggemar LFC di pasar Forex, termasuk tiket pertandingan the Reds di kandang mereka di Anfield.
"Kami senang menyambut InstaForex untuk bergabung bersama keluarga Liverpool sebagai mitra trading Forex online pertama kami. Layanan online InstaForex memiliki lebih dari 1,2 juta klien online dan mereka yang berada di Asia dan CIS akan mendapatkan manfaat dari kemitraan ini, dimana InstaForex menawarkan kepada para penggemar LFC konten dan akses ke tim yang mereka cintai," Chief Commercial Officer Liverpool FC, Billy Hogan berkomentar.
Mengomentari kemitraan baru ini, Pavel Shkapenko, Director of Business Development di InstaForex mengatakan: "InstaForex memiliki aspirasi yang sama dengan Liverpool - kami berjuang untuk menjadi yang terbaik di industri Forex seperti halnya LFC di sepakbola. Kemitraan ini menyatukan brand dinamis muda dengan tradisi berumur lebih dari satu abad dan kami senang bekerja sama dengan klub yang mapan dan memiliki banyak penggemar."
Didirikan di 1892, Liverpool FC adalah salah satu klub sepakbola paling bersejarah dan terkenal dengan memenangkan 18 Gelar Juara Liga, 7 Piala FA, 8 Piala Liga, 5 Piala Eropa, 3 Piala UEFA, 3 Piala Super Eropa dan 15 Charity Shields.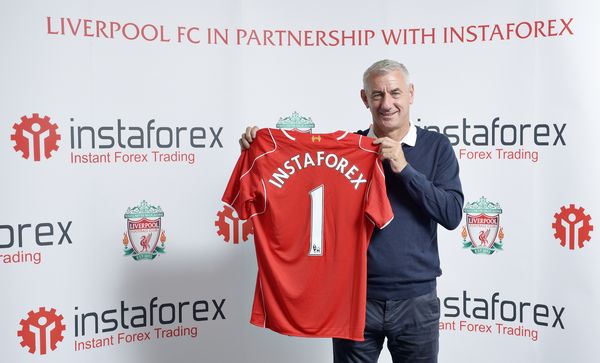 Legenda Liverpool FC Ian Rush memegang T-Shirt InstaForex yang mengumumkan kemitraan 2 tahun antara InstaForex dan LFC