A true Lotus Fight from InstaForex!

Everyone is aware that within the framework of its campaigns

Insta

Forex

international broker is raffling the two sports cars produced by a legendary automobile brand - Lotus. Two lucky

Insta

Forex

traders will become the happy owners of these two cars within 2011-2012 period of time.

Yet, we invite you to touch these two incarnations of speed and dynamics right now in a Lotus fight arranged by

Insta

Forex

Company! This project is designed to conduct a comparative research focused on Lotus Elise and Lotus Evora. Both Lotus masterpieces are superlight speedy automobiles with Lotus Elise having all the grounds to be called extreme and extramanoeuvrable and Evora - inspiring respect with its massive shapes.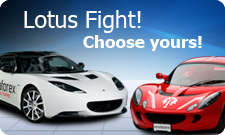 We have created for our clients

Lotus Fight video

showing the famous

InstaForex TV

anchor girls. Each of them represents one of the Lotus automobiles and ardently tries to argue that it is her car which deserves "The best" title! The video will help you to assess the characteristics of the two sports cars and make up your mind over which of them looks more aggressively, has a tougher temper and more power to manifest.

We remind you that both sports cars by the well-known British brand Lotus are the main prizes in

"Win Lotus from InstaForex"

and

"The Fast Ride from The Best Broker"

campaigns. The two sports automobiles are destined to be owned by two jammy

Insta

Forex

traders. Lotus Elise will find its exhilarated driver on May 27, 2011, while Lotus Evora will have its proprietor on May 25, 2012.

Watch the

Lotus Fight video

, choose between the two prizes presented and take part in unprecedented campaigns held by

Insta

Forex

. Probably, it is you who is to become an owner of one of the two cars!