VENEZUELA: U.S. Treasury Freezes Maduro's Assets After Constituent Election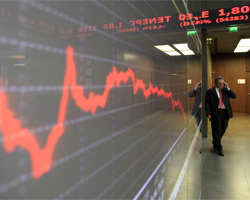 The U.S. Department of the Treasury sanctioned the president of Venezuela, Nicol?s Maduro, for "undermining democracy" in the Latin American country.
The sanctions come a day after the Maduro government held elections for a National Constituent Assembly that aspires to rewrite the Venezuelan constitution despite a massive boycott to the polls by the opposition.
The election day was also marred by violence, with 16 people killed, according to the Venezuelan Observatory of Social Conflict (OVCS), which also said that only in two Venezuelan states there were no violent acts or anti-government protests.
"The Maduro administration has proceeded with the ANC even though Venezuelans and democratic governments worldwide have overwhelmingly opposed it as a fundamental assault on the freedoms of the Venezuelan people. The creation of the ANC follows years of Maduro's efforts to undermine Venezuela's democracy and the rule of law," said the U.S. Treasury department in a statement.
"As a result of today's actions, all assets of Nicol?s Maduro subject to U.S. jurisdiction are frozen, and U.S. persons are prohibited from dealing with him," the statement added, without specifying which assets could be targeted by the sanctions.
The Constituent Assembly election held yesterday in Venezuela chose 545 representatives to rewrite the country's constitution, which was last modified during former president Hugo Ch?vez administration.
More than eight million Venezuelans took part in Sunday's National Constituent Assembly (ANC) vote, convened by the Nicol?s Maduro's government. Voters' participation reached around 41% of more than 19 million Venezuelans able to vote, said the president of the National Electoral Council (CNE), Tibisay Lucena.
The Venezuelan opposition said that it would march today against the violence reported during the demonstrations. Freddy Guevara, the first vice-president of the National Assembly (controlled by the opposition), urged citizens to protest today and attend a rally in Caracas.
More than ten countries of the region, among them Argentina, Colombia, and Peru, said that would not recognize the electoral results. The United States and the European Union called the vote "illegal."
News are provided by

Insta

Forex.