Australia Q3 House Price Index Drops 1.5%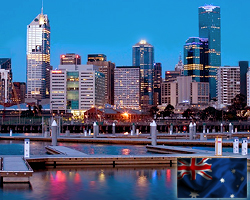 House prices in Australia fell 1.5 percent on quarter in the third quarter of 2018, the Australian Bureau of Statistics said on Tuesday.
That exceeded expectations for a decline of 1.6 percent following the 0.7 percent drop in the three months prior.
On a yearly basis, house prices skidded 1.9 percent - again exceeding forecasts for a fall of 2.0 percent following the 0.6 percent decline in the previous three months.
The capital city residential property price indexes fell in Melbourne (-2.6 percent), Sydney (-1.9 percent), Perth (-0.6 percent) and Darwin (-0.9 percent), and rose in Brisbane (+0.6 percent), Adelaide (+0.6 percent), Hobart (+1.3 percent) and Canberra (+0.5 percent).
Annually, residential property prices fell in Sydney (-4.4 percent), Darwin (-4.4 percent), Melbourne (-1.5 percent), Perth (-0.5 percent) and rose in Hobart (+13.0 percent), Canberra (+3.7 percent), Adelaide (+2.0 percent) and Brisbane (+1.7 percent).
The total value of residential dwellings in Australia was A$6.847 trillion at the end of the September quarter 2018, falling $70.148 billion over the quarter.
The mean price of residential dwellings fell A$9,700 to A$675,000 and the number of residential dwellings rose by 40,900 to 10,143,700 in the September quarter 2018.
Also on Tuesday, the business confidence index from NAB came in with a score of +3 in November - down from +4 in October. The index for business conditions slipped to +11 from +12 a month earlier.
News are provided by


Insta

Forex.