Euro Falls On Worsening Sovereign Debt Crisis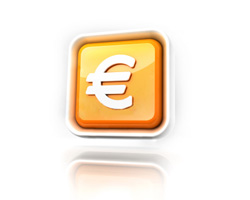 The euro fell against its major counterparts in the Asian session on Monday amid concerns about debt worries in the euro zone following a lack of progress in the bailout efforts.
The European finance ministers, who wrapped up two days of talks in Wroclaw, Poland, on September 17 said they would push back a decision on whether Greece should get its next payment from last year's $151 billion bailout package until next month.
Greece needs the payment to avoid defaulting on its debt, an event that would undermine the global economic recovery and hurt banks that hold Greek debt.
The euro also fell on worries that the ongoing credit woes in the euro zone will result in a marked slowdown in the global economic recovery.
Reports suggested that Greek Finance Minister Evangelos Venizelos will hold official talks today with European Union and International Monetary Fund inspectors on its eligibility for next aid payment due next month.
The euro hit 5-day lows of 104.99 against the yen and 1.3649 against the greenback, compared to Friday's close of 105.91 and 1.3789, respectively. The next downside target level for the euro is seen at 104.00 against the yen and 1.35 against the greenback
Against the pound, the euro fell to a 5-day low of 0.8694 and the pair held steady thereafter. The pair is now trading at 0.8706, compared to last week's close of 0.8736. If the euro drops further, it may target the 0.865 level.
The European currency fell to as low as 1.2058 against the franc and a 1-week low of 1.6531 against the kiwi. On the downside, the euro may target 1.20 against the franc and 1.64 against the NZ dollar. At Friday's close, the euro was worth 1.2095 against the franc and 1.6641 against the kiwi.
The Eurozone construction output data for July is due in the European session
From the U.S., NAHB housing market index for September is expected in the New York session.
More FOREX-news on pages

Insta

Forex.Com