Australia Q3 House Prices Ease 0.2% On Quarter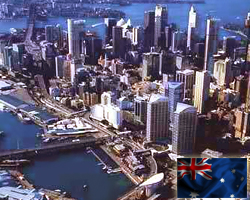 Residential property prices in Australia fell 0.2 percent on quarter in the third quarter of 2017, the Australian Bureau of Statistics said on Tuesday.
That missed forecasts for a gain of 0.5 percent following the 1.9 percent jump in the previous three months.
On a yearly basis, house prices were up 8.3 percent - again missing forecasts for 8.8 percent and down from 10.2 percent in the three months prior. The capital city residential property price indexes fell in Sydney (-1.4 percent), Perth (-1.0 percent), Darwin (-2.6 percent) and Canberra (-0.2 percent) and rose in Melbourne (+1.1 percent), Brisbane (+0.7 percent), Adelaide (+0.7 percent) and Hobart (+3.4 percent).
Annually, residential property prices rose in Hobart (+13.8 percent), Melbourne (+13.2 percent), Sydney (+9.4 percent), Canberra (+6.9 percent), Adelaide (+4.8 percent) and Brisbane (+3.5 percent) and fell in Darwin (-6.3 percent) and Perth (-2.4 percent).
"The fall in Sydney property prices this quarter was consistent with market indicators," said ABS Chief Economist Bruce Hockman.
The total value of residential dwellings in Australia was A$6.779 trillion at the end of the September quarter, rising A$14.843 billion over the quarter.
The mean price of residential dwellings fell A$1,200 to A$681,100 and the number of residential dwellings rose by 40,200 to 9,954,100 in Q3.
Also on Tuesday, the latest survey from National Australia Bank showed that consumer confidence in Australia slowed in November with an index score of +6.
That's down from the upwardly revised +9 in October (originally +8).
Business conditions also slowed in November with index coming in at a score of +12, down sharply from +21 in the previous month.
News are provided by

Insta

Forex.